Named after the song that plays during it in Streets of Rage/Bare Knuckle 2 during it, this stage begins in the baseball stadium of level 4-2, and is merged seemlessly with the elevator from level 4-3 that follows it. To make up for the fact that there isn't much horizontal space for characters to move in the elevator, the stage is as high as I thought it might need to be to support all super-jumping and flying characters - if for some reason it doesn't seem to be tall enough, let me know so I can update it.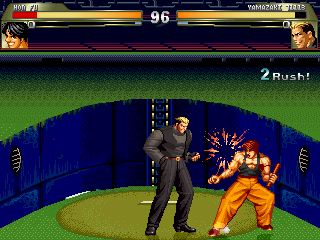 More images: 1 2 3 4 5 6

Download the Too Deep stage
Download the "Too Deep" music in one of these URLs:
http://www.protoman.com/Music/sor2.html
http://www.phantasy-star-universe.com/Music/Genesis/sor2.htm

The stage is prepared to work with a sound file called "too_deep.mp3", so either rename the music file to fit that name, or change the DEF file so it'll refer the name of the file you downloaded. If for some reason both links stop working, let me know so I can upload the version I ripped.